While it is tempting to choose a countertop based on aesthetics alone–longevity, upkeep, and material costs are all crucial considerations when deciding on the right countertops for your home. If you have kids and are an avid cook, white granite might not be the best choice. But don't worry! We're here to listen and help guide you through the process.
Homeowners can choose from the various granite countertops available in a range of colors such as blacks, whites, greens, corals, and beiges, and no two pieces are precisely the same as the top option of countertops. Granite is used in two variations. A polished finish gives the surface of the stone a glossy look and sometimes darkens while honing is smooth and matte. Granite costs rely on many factors, including the stone color, finish, and origin.
Many natural stone materials are softer than granite and require delicate use and greater consideration, such as marble, limestone, and soapstone.
Nowadays, there's a lot of interest in using concrete surface countertops. With modern technology, the drab look of concrete can be transformed into something more sophisticated. Concrete countertops can be fully personalized with stains and wax polishing. Concrete is available in a number of finishes: trowel (smooth), soil (sanded to reveal the aggregate of sand), and pressed (a tool is used to reveal marblelike veining). One should be aware that severe or sudden temperature changes may cause warping or curling of asphalt, wet sponges left on the counter may cause discoloration, and the surface may be etched by acidic spills. It's advisable to seal concrete countertops up to four times a year and wax them every two to three months in order to keep them looking sharp and new.
Wood countertops, like butcher blocks, are easy to clean and it's possible to sand off scratches. However, water destroys the butcher block very quickly, so wood countertops must be oiled to seal the surface regularly. Laminate is the most inexpensive material on the market for countertops and comes in a variety of colors and styles. However, when a hot pan hits the surface, laminate will scorch. In recent years, the product has made advances in scratch-resistance.
Our team at Boise Kitchen Remodel is ready to help you choose the countertops that will be a perfect fit for your lifestyle and home aesthetic.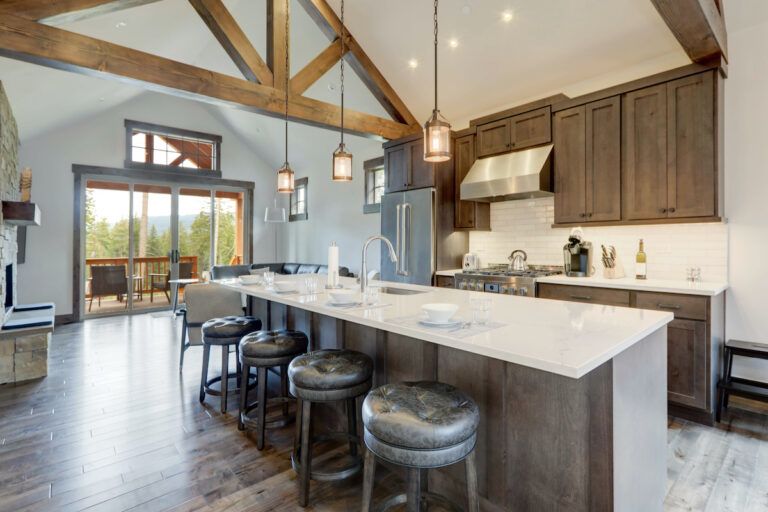 Our team specializes in custom-built kitchens – one of a kind, with the highest quality of construction and materials available. When considering a kitchen remodeling project, don't just look at square footage or design. Pay attention to the finishes – the colors, stonework and cabinetry, the flooring, kitchen cabinets and built-in appliances. Our kitchen remodeling contractors are committed to providing custom-built kitchens with the highest quality of material and workmanship possible. The goal is to create a kitchen that is easy to clean, efficient, and stylish.